Greatest Needs Fund
For every day operations and expenses of the RMH Foundation office and special project funds.
The Greatest Needs Fund is used for day-to-day operating expenses of the Foundation. Within the fund, monies are designated for special projects such as the RMH chapel renovation, the Reach Out and Read Fund (provides books to children at their well-child visits), and the Diabetic Education and Wellness Fund (provides funding for the RMH Diabetic Education classes).
Jake McKee Heart of Gold Fund
A fund to raise awareness of cardiac-related deaths in children and provide FREE screenings to children of Rush and surrounding counties.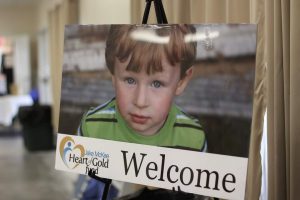 The Jake McKee Heart of Gold Fund will provide free heart screenings, through RMH Pediatrics, to any child 6th grade and above. Eventually, this test will be provided for middle and high school athletes during yearly physicals with parental permission.
RMH Hospice Fund
A fund to assist in providing comfort and care to patients while allowing them to be close to home.
The RMH Foundation is pleased to announce the creation of the RMH Hospice Fund.  The purpose is to allow grateful donors to give back to the RMH Hospice Care program by providing monetary donations which will in turn be used to upgrade hospice rooms, provide supplies/equipment needed in the hospice area, and to better serve our hospice patients and families.
Brian's Cause Cancer Treatment Relief Fund
A fund designed to help working men and women in Rush County who are battling cancer.

Made possible by the generous support of Brian Conner, this fund is designed to give back to those who helped Brian during his cancer journey. The primary purpose of this fund is to provide financial help to people with cancer (who qualify through a screening process) to help pay their oncology bills.
Rush Memorial Hospital Scholarship Fund
A fund for employee reimbursement & future healthcare providers.

The primary purpose of this fund is for the full time staff of Rush Memorial Hospital to further their education and for the advancement of their healthcare related careers.  Also, two scholarships are awarded annually to deserving graduating Rushville Consolidated High School seniors pursuing a degree in health/medicine.
Rush Memorial Hospital Scholarship Application
Wade Weston Scholarship Fund

A fund for emergency service team members.
The primary purpose of the fund is to provide financial help for clinical staff at RMH and for members of the RMH EMS and local air emergency services pursuing further education in the fields of nursing or EMS.
Wade Weston Scholarship Application
Sheehan Cancer Center Fund
Having cancer is hard. Finding quality, state-of-the-art treatment is easy.
Monies for Sheehan Cancer Center Fund provide for the needs of the Sheehan Cancer Center. The Sheehan Cancer Center at Rush Memorial Hospital provides board certified oncologists, hematologists, and oncology nurses who are top in their fields. Sheehan Cancer Center patients receive quality-of-life-education and research on the best way(s) to cope with their specific cancer diagnosis. Along with receiving quality care in a comfortable environment, our center is right here in Rush County! Each patient gets the support, personal attention, and respect they deserve.