Rush Memorial Hospital Volunteers enhance the quality of services in our hospital. They give back to the community, make a difference in the lives of others, and serve the hospital and community by providing patients and visitors with information and assistance.
Rush Memorial Hospital Volunteers are a vital part of the hospital's support system. Fill out an application now.
Benefits of Volunteering:
Giving Back to the Community
Fellowship
Meet new people
Free flu vaccination
Job experience
Free lunch at RMH (when volunteering)
Quarterly volunteer luncheons
National Volunteer Appreciation Week recognition
Contact
Theresa Alexander
Foundation Executive Director
theresa.alexander@rushmemorial.com
765-932-7568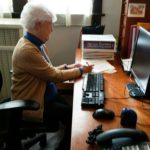 Recognizing our Volunteers
Longtime RMH volunteer Helen Perkins is responsible for creating and producing our quarterly volunteer newsletter. Helen has outstanding computer skills and creates an interesting and fun newsletter for everyone to read. Great job Helen. We are RMH Proud of You!