Rush Memorial Hospital CEO/President Bradley Smith had a vision about the creation of a foundation for the hospital.  Working with key community members and hospital staff the vision became a reality.  Through perseverance and insight the Rush Memorial Hospital Foundation was formed in the fall of 2005. Mr. Smith became the first donor to the newly created Rush Memorial Hospital Foundation.
Its mission was to support the vision and mission of Rush Memorial Hospital.  The original board consisted of  President, Linda Levi; Vice President, Kevin Snyder;  Secretary, Doug Gosser; Treasurer and Foundation Director, Avy Leissring; Board members John Byrne, Shannon Cagle Dawson, Marcia Blair, Julie Smith, Karen Meyer, Jason Clemmons, and Brad Smith.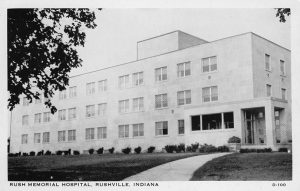 The first goal of the foundation was to raise money for the construction of the Medical Office Building. Avi lead the Foundation to success in this effort, and ground was broken for the much needed addition in 2006.
Multiple successes followed:
In 2012 RMH Foundation provided the hospital with funds to build the Digital Mammography Suite, which provides our community with state of the art breast cancer detection.
In 2013 the RMH Foundation helped fund the Pediatric Office Building, allowing RMH to better meet the health care needs of our community's children.
In 2015 the RMH Foundation provided the Surgery Department with a specialized intubator for use with patients who have airway challenges.
In 2016 the RMH Foundation purchased a shuttle that will soon be used to transport patients/guests/volunteers/employees across the expanded RMH campus.
In 2017 and 2018 the RMH Foundation purchased needed equipment for the Imaging Department.
In 2019 the RMH Foundation purchased a Vapotherm for the Emergency Room and MedSurg Departments.
These are just some of the major accomplishments of the RMH Foundation. Many other projects, both large and small, have been completed by the Foundation for the benefit of the hospital and its patients.
Throughout its history the board has expanded to include 15 volunteer members. It has added an administrative secretary and legal advisor.