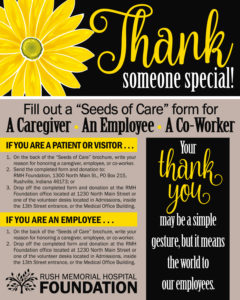 A Way to Say "Thank You"
The "Seeds of Care" Grateful Patient Program allows individuals to personally honor those who have given exceptional care to our patients here at Rush Memorial Hospital. By making a donation in the name of the person you wish to recognize, you are able to thank that person publically while contributing to the future care of patients at RMH. Whether it is the skilled surgeon how repaired your wrist, or the compassionate nurse who cared for you in chemotherapy, you have a chance to say "Thank you".
Each staff member and/or department that is recognized with a "Seeds of Care" gift will have their fingerprint permanently place on the Caring Tree, located in the RMH employee entrance as a legacy to their great care for our patients and/or guests.
Donations may be made online or by mail, using the form below. This form is also found on the back of the "Seeds of Care" brochures that are located in each of our waiting areas.