This article originally appeared in the Rushville Republican on Tuesday, July 12.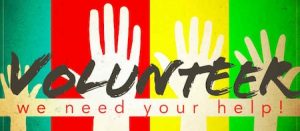 Many people today are looking for ways to contribute to their community or "give back". Rush Memorial Hospital is a great place to do just that.  Faith Mock, RMH Volunteer Coordinator, states "My first contact with RMH was to ask about volunteering opportunities.  Each of us can contribute our own skills and personality to help patients, families, and visitors that come to RMH.  Anyone over age 18 to 100 can become a part of our RMH volunteer family."
Rush Memorial Hospital is currently looking for volunteers to greet and assist visitors in the Medical Office Building and 13th Street hospital entrance.  Giving directions, answering questions, and escorting to various areas of the hospital are just some of the duties of a volunteer.  The hospital is also looking for 10-12 volunteers to drive their new RMH shuttle that will be launching this fall.  An Indiana driver's license is required along with a heart to help people.  Shuttle drivers will be working a morning or afternoon shift Monday through Friday.  Volunteer drivers may pick their shift and day to drive.  The shuttle will move people throughout the hospital campus.
If you are interested in volunteer opportunities go to www.rushmemorial.com/foundation.  Click on "Volunteer" for a brief description and short volunteer application.  Contact Faith Mock at the RMH Foundation by calling 765-932-7568 for additional information and questions.
"Volunteers complete the hospital experience. They greet you, assist you, and help you get to where you need to go.  It is a wonderful opportunity to work with good people and give back.  There is tremendous personal satisfaction as a volunteer and some great fun too.  Please consider joining our volunteer team!" exclaimed Faith Mock.