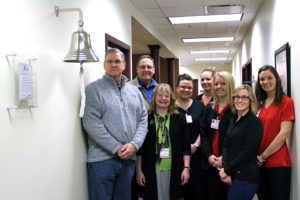 A new bell is hanging in the hallway of the Sheehan Cancer Center. The bell was given in memory of Jim and Barb Vogel by their sons, Jeff and Jon. It is a loud bell, suitable for making a bold and joyful noise each time it is rung by a cancer patient to celebrate the completion of chemotherapy. When this bell rings, patients and staff on the entire floor of the Medical Office Building can hear it. Everyone who knows what it signifies is happy to share in the celebration.
After Jim and Barb both passed away from cancer, their sons wanted to do something to benefit other cancer patients. They also wanted to recognize the care and concern that their family had received from Dr. Jaime Ayon and his nursing staff. As Jeff said, "My dad thought the world of Dr. Ayon and he thought the world of those nurses." He added, "They bent over backwards to help us….They were always there."
Jeff and Jon did not have a specific purchase in mind when they made their donation. They wanted to purchase something that could be used to help other patients. When the nursing staff contacted them about the possibility of using their donation to purchase a bell, the brothers immediately agreed.
The Vogel's donation gives patients something to look forward to at a very difficult time. No one knows better than Dr. Ayon and his staff, what a triumph it is when patients finish their treatments.
"Cancer and chemotherapy add many stressors to patients and their families' lives. However, there is no greater reward as a caregiver than to see the excitement in our patients' eyes when they get to ring the bell for all to hear," says Erin Pike, Director of Oncology at the Sheehan Cancer Center.
"The Sheehan Cancer Center is at the heart of what we strive for here at Rush Memorial Hospital," says Brad Smith, CEO. "It's about being there for our patients, whenever they need us, during good times and bad. This bell helps them celebrate one of the good times."
Donations to the Sheehan Cancer Center may be made online at the Rush Memorial Hospital Foundation website, or mailed to Rush Memorial Hospital Foundation, 1300 N Main St, PO Box 215, Rushville, Indiana 46173.