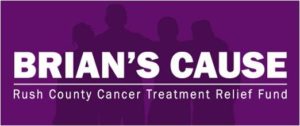 This article first appeared in the Rushville Republican on Tuesday, September 12, 2017.
The Brian's Cause – Together We Can central committee, consisting of Michele Gettinger, Vicky Frazier, Jane Gentry, Deb Hummel, Christopher Fogle, Mary Ann Coon, Erin Pike, and John Byrne decided that an activity was needed at the annual event for those not interested in running or walking the 5K. The committee is pleased to announce the addition of an art party as a choice for the 2017 Brian's Cause Together We Can fundraiser.
Artzzy Party, coordinated by Lisa Gettinger, will be leading the group in their artistic talents inside the Rush Shelby Energy Building at the Rush County Fairgrounds on Saturday, October 14 from 8-11am. The fee is $25 and that will supply all of the art needs for your paintings. This "Together We Can Paint for a Purpose" has 30 seats available. Reservations are on a first come first served basis. Those that paint will get to take their masterpiece creations home with them. They will also be inside for the survivor recognition, remembrance, and silent auction. A bake sale table of homemade goodies will be offered for those wishing to have a snack while they paint. Breakfast will also be available for a small fee. A small portion of the art party fee will be added to the profits for the Brian's Cause Cancer Treatment Relief Fund that day.
"We are so excited to offer an opportunity for everyone in the community to become involved with this year's Brian's Cause event. Previous years focused on a walk or a run that not all members of our community could participate in. The Paint for a Purpose during Brian's Cause allows for young and old to express themselves whether a novice or pro! It's sure to bring smiles and laughter to all that participate! What a great way to help our RMH cancer patients," exclaimed committee member Jane Gentry.
Those that paint will not be able to participate in the 5K since the two activities will be occurring at the same time. To reserve your spot at the "Together We Can Paint for a Purpose" party call the RMH Foundation Office at 765-932-7568. Remember, seating is limited to 30, so register early.