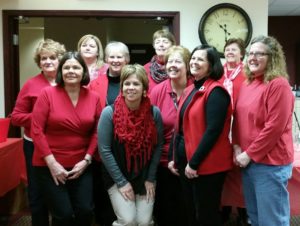 This article first appeared in the Rushville Republican on January 30, 2018.
Heart disease is the number one health issue in Rush County. We all can relate to the devastating effects heart disease can pose on our personal health and family health. The Rush Memorial Hospital Foundation's Seed Circle is excited to announce its annual "Show Us Your Red" for Heart Health free community event is coming on Saturday, Feb. 3. This free community event is planned to raise awareness of the risk factors and prevention methods of heart disease and educate about a healthy heart. The vent is geared for men and women.
The annual event will take place in the Kenneth L. Earnest Family Conference Center, basement floor of the Medical Office Building. This building is located at 110 East 13th Street. Doors will open at 9:45 a.m. The event begins at 10 a.m. until noon.
Featured speaker, Kathy Newkirk, will share here stroke journey and share important and valuable information. Healthy cooking demonstrations will be conducted along with information tables from various RMH departments including RMH Cardiac Rehab, Rushville Family Fitness, Anytime Fitness, Twin Oaks Flow Yoga, Rush2Health, StatFlight, and more. Back by popular demand chair yoga will end the event. This type of yoga is appropriate for any age and any degree of fitness level. Each attendee will receive a favor and will have an opportunity to visit the various information tables. Prizes will be drawn at the end of the morning.
Bring your loved ones to learn great information on heart health. Let's get educated and lower our county's heart disease rate. Get your RED on Rush County in support of heart health. For more information contact the RMH Foundation office at 765-932-7568.