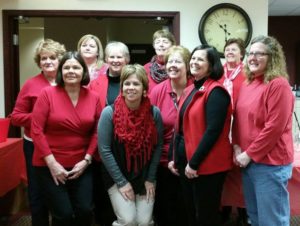 This article first appeared in the Rushville Republican on October 24, 2017.
Five years ago a group of local ladies met at Rush Memorial Hospital with RMH Foundation Director Faith Mock to form the Rush Memorial Hospital Foundation Seed Circle. The purpose of this organization is to learn more about Rush Memorial Hospital and the Rush Memorial Hospital Foundation.  The group invites any female that is interested in learning more about these two organizations, have fun with fellow women, and participate in hospital and foundation events to join.  The group has steadily grown in the past 5 years and is celebrating their founding and growth.
On Thursday, November 16, 2017 the Seed Circle members will meet and celebrate their founding anniversary. They invite any local lady to come and see what the RMH Foundation Seed Circle is all about.  Each bi-monthly meeting consists of a fun activity, refreshments, and a program or tour of a department within the hospital.  Members are given first hand information on upcoming Foundation events.  The Seed Circle has become the sponsor of the "Show Us Your Red" for Heart Health event held in February and they volunteer for several Foundation and RMH events, such as the Teddy Bear Clinic and Brian's Cause. Last year the group provided trick or treating at the RMH Foundation Office and participated in Christmas on Main Santa's arrival.  Membership qualifications are simple 1) attend the bi-monthly meetings and 2) make a yearly donation of your choice to any fund of the RMH Foundation.
The RMHF Seed Circle 5th Anniversary Celebration will be held at the RMH Foundation Office located on the corner of 13th Street and Main Street, Rushville.  The celebration begins at 6:30pm.  Along with the celebration the 2017 Rush County Youth Volunteer of the Year will be announced and awarded.  Please join us for a fun-filled evening.  RSVP to Faith Mock, RMH Foundation Director, at 765-932-7568 or RMHF Seed Circle Executive Committee members Eleanor Columbe, Ashley Stiers, Kristen Hass, or Anne Zachery.