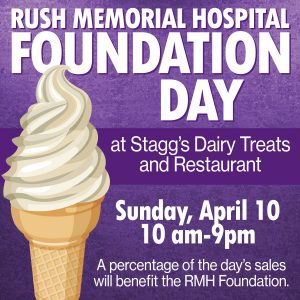 This article was originally published in the Rushville Republican on 4/5/2016.
Last year Stagg's Dairy Treats and Restaurant hosted their first designated RMH Foundation Day at Stagg's. The local business was gracious enough to host this day even in the middle of Highway 52 road construction in front of their establishment.  This year the road construction is complete and the date is set for Sunday, April 10, 2016.
A portion of the all sales for the day will be given back to the Rush Memorial Hospital Foundation as a donation. "We are so grateful to Stagg's for supporting the RMH Foundation.  The work of the hospital is vital to the community and the overall health of our citizens.  Stagg's offering to donate back to us is a great testament to their commitment to Rush County.  Everyone stop in or drive thru and make a difference in the health of lives every day," states Faith Mock, RMH Foundation Director.  Since 2004 Stagg's Dairy Treats and Restaurant designated days have given back to the RMH Foundation almost $7,000.00 to designated funds such as the Sheehan Cancer Center, Brian's Cause Cancer Treatment Relief , and the RMH Foundation.
Stagg's Dairy Treats and Restaurant, located at 1010 West 3rd Street, Rushville, offers a large variety of menu items including sandwiches, drinks, and ice cream.  They will be open from 10am until 9pm.  Mock continued, "The RMH Foundation logo includes the color purple.  Maybe you can stop in for a grape slush!  Thank you Stagg's management and employees for your community support."