This article originally appeared in the Rushville Republican on October 11, 2016.
For seven consecutive years the Susan G. Komen Central Indiana organization has awarded Rush Memorial Hospital one of their coveted grants. These grant monies provide financial assistance to local women and men for mammograms and other breast health care services. The extensive grant encourages community outreach and education. This year the Rush Memorial Hospital will sponsor a community cancer awareness event themed "A Promise of Hope".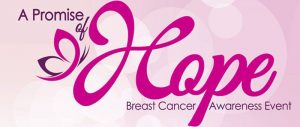 Wednesday, Oct.19, at the Kenneth L. Earnest Conference Center (located at 110 East 13th Street, Rushville, in the Medical Office Building) guests will get an opportunity to show their pink pride. The first 100 guests will receive a pink flower donated by The Rushville Florist. Attendees will then be perusing many booths such as the Folia program, RMH Radiology (Digital Mammography), Komen, RMH Women's Care, RMH Foundation, and others who will be providing information and takeaways. Doors will open at 5:30 p.m. and the event wraps up by 7 p.m.
Speakers representing the Susan G. Komen organization and RMH Surgical Associates will share valuable information concerning breast cancer and other cancers. Prizes will be drawn throughout the event for gas cards, Vera Bradley Hope handbag, jewelry, and more. The grand prize will be a $500 Visa card.
This free event is sponsored not only by Rush Memorial Hospital, but also in partnership with Kroger.
Kevin Kotansky, Kroger Public Affairs spokesperson, said, "We will be happy to sponsor this again. We can't say no to your good work. Count us in."
The Kroger Company, Central Division, has been a longtime supporter of the Susan G. Komen Central Indiana organization and breast cancer research. According to the Susan G. Komen website, "In 2016, it is estimated that among U.S. women there will be 246,660 new cases of invasive breast cancer and 40,450 breast cancer deaths."
Early detection is the key to successful treatment. The "A Promise of Hope" event will provide an opportunity to get educated and informed along with asking questions to the professional. Faith Mock, RMHF Executive Director, Michele Gettinger, Administrative Assistant, and Erin Pike, RMH Oncology Department Director serve as the RMH Komen grant committee. So mark your calendars and invite your sisters, mothers, aunts, husbands, and friends for a fun and informative event. And don't forget to wear pink.