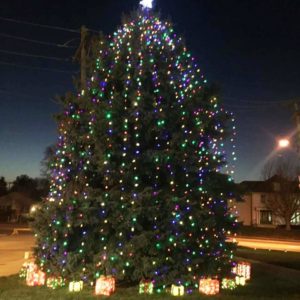 This article first appeared in the Rushville Republican on November 28, 2017.
The Rush Memorial Hospital Cultivation Club is hosting their annual Lights of Love Community Christmas Tree Lighting on Wednesday, November 29. The community is invited for an amazing Christmas season kick-off.  The event will begin at 5:30pm at the 13th Street entrance of Rush Memorial.   The Benjamin Rush Middle School choir will lead everyone in carol singing.  The 2017 Rush County Youth Volunteer of the Year recipient, Hannah McGee, will lead the countdown to the lighting of the huge Christmas tree on the southwest corner of the hospital property.  This year Santa will be present along with his live reindeer.  Families can pet the reindeer and take pictures.  Weston the Elf will make a return engagement to delight the children and pass out books for every elementary aged or younger child in attendance.  Hot chocolate, hot cider, and cookies sponsored by Hubler Auto Center will be served in the Medical Office Building.  13th street will be closed from Main Street to the east alley behind the RMH Foundation office for the event.  Bundle up, come, and enjoy this fun family event for all ages.
On Friday, December 1, 2017 the annual Holiday Extravaganza (one stop shop) will be held in the RMH Medical Office Building, located at 110 East 13th Street, Rushville.  The event is from 8am to 2pm and is free to the public.  Many vendors will be on hand with items such as handmade crafts, lotions and soaps, wood signs, wreaths, primitives, and more.  Several at home party vendors and boutique clothing will also have booths at the extravaganza.  A delicious bake sale will be provided by the employees of Rush Memorial Hospital.  Scrumptious holiday goodies will be for sale for your enjoyment.  All the proceeds from the Holiday Extravaganza booth fees are donated to the RMH Foundation's Wade Weston Scholarship Fund.  This fund provides annual scholarships to hospital employees furthering their education in the fields of Nursing or EMS.  Mark your calendars and make plans to come and enjoy the start of the holiday season at Rush Memorial Hospital where RMH is "Committed to You.  Close to Home."  For additional information contact the RMH Foundation Office at 765-932-7568.