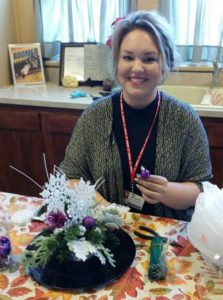 This article first appeared in the Rushville Republican on July 11, 2017.
Through a grant from the East Indiana Area Health Education Center (AHEC), the Rush Memorial Hospital Foundation was able to develop an internship opportunity partnering foundation work and hospital clinical experience. Rush County native Katie Meyer came on board the RMH Foundation in November of 2016 through June 2017.
Jeff Hartz, East Indiana AHEC Executive Director was intrigued with the idea of this new partnership and opportunity. He said, "We usually pair a clinical student with a hospital for their internship experience. When I was presented with this new collaboration between us, the student, the RMH Foundation, and Rush Memorial Hospital it seemed like a great fit. Our organization worked with RMHF Director Faith Mock to write the guidelines for this experience and it has been a good one. We hope to use the RMH Foundation as an example to create more internship opportunities in east central Indiana for students wanting to work in the health industry beyond clinical areas."
Katie, now graduated, was a business major with a certification in Drug and Alcohol Addiction Counseling. Her goal in this internship experience was to work primarily with the RMH Foundation, but experience the tie between the Foundation and Rush Memorial Hospital.
"Everything the RMH Foundation does links to Rush Memorial. We support the employees, the hospital projects, and the vision of the hospital," Faith Mock, RMHF Director, said. "Katie had the interest, the knowledge, and the willingness to work and see firsthand the connection between us and the hospital. A hospital foundation is vital to the growth and community support of a hospital. I believe Katie has gained incredible experience in this internship. We have loved having her here and she has been so valuable in helping us on a day to day basis. I truly hate to see her end her internship experience. I am also grateful to Jeff Hartz of AHEC for allowing this new collaboration to come to fruition. Thank you Katie for a wonderful seven months! It has been a win-win for everyone."
Part of Katie's experience included chairing fundraising committees, attending workshops and meetings, preparing and giving health presentations, shadowing clinical areas, assisting with hospital projects, learning the day to day running of the RMH Foundation, working on updating procedures, public relations, and more.
Katie said, "I have loved being at the RMH Foundation. I have learned so much about the operation and goals of a hospital foundation and about all of the services at Rush Memorial Hospital. There is so much involved in running a hospital and I am proud to have been a small part of this organization. The community is so fortunate to have a great hospital right here. Thank you AHEC and the RMH Foundation for this opportunity."
Katie will now be sharing her experience at an upcoming AHEC board meeting and speaking with other hospital foundations that may be interested in this type of program.
For more information about the Rush Memorial Hospital Foundation contact the office at 765-932-7568. Faith Mock, Executive Director or Mary Frances Friedl, Administrative Assistant, will be glad to answer any questions for you.