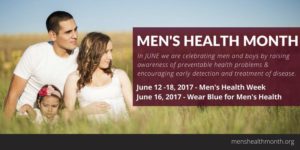 This article first appeared in the Rushville Republican on June 13, 2017.
Friday, June 16, 2017 is national Wear Blue for Men's Health day. The Rush Memorial Hospital and Rush Memorial Hospital Foundation are asking Rush County businesses and residents to wear blue that day in support for men's health awareness.
Rush Memorial Hospital is declaring Friday as "Blue Friday" at the hospital. Statistics gained from www.menshealthnetwork.org show that on average men live 5 years less than women. They also have a higher death rate from the leading causes of cancer, heart disease, diabetes, and suicide. One in two men will develop cancer and approximately 30,000 men in the U. S. die each year from prostate cancer.
Rush Memorial Hospital offers a wide variety of screenings and treatment available. RMH Director of Provider Services Joyce Geis shared her sentiment, "Men tend to only see a health care provider when they are ill and often do not get the necessary preventive screenings. Because heart disease is the number one killer of men in the United States, getting screened for elevated cholesterol, which contributes to heart disease, is so important. In addition, screenings and early discovery of cancers, such as colon and prostate, can really make such a difference in the treatment and outcomes. RMH Healthcare Associates can provide these screenings and are here to help with all health care needs."
To make an appointment or speak with a provider contact RMH Healthcare Associates at 765-932-7591.
Faith Mock, RMH Foundation Director added, "We have promoted campaigns for women such as the "pink" breast cancer campaigns and the "Show Us Your Red for Heart Health". It's time that we focus on the men in our community. Since public figures like racecar driver John Andretti, TV meteorologist Randy Ollis, and news personality Scott Swan have recently shared their personal health stories the conversation has increased. That's good that our men are becoming more aware and more educated about their personal health. Rush Memorial Hospital is happy to promote National Men's Health Day and hope that families will begin the important conversations concerning screenings and preventative care. We hope everyone goes blue on Friday, June 16, in show of their support of positive men's health. Our RMH physicians are here to help with all of your healthcare needs."
It's time to lower these statistics and change the health landscape in our community. Let's show our love and support to our men. Make a difference. Begin the conversations about PSA's (blood test) for prostate screening, colonoscopy (for colon screening), cholesterol, blood sugar levels, blood pressure, depression, and more. You can make a change for positive health. Take the steps and contact your physician or Rush Memorial Hospital. The first step is the hardest, but can be the most important.