This article first appeared in the Rushville Republican on November 1, 2016.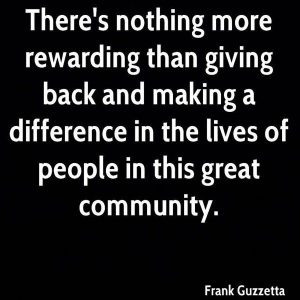 People give back in many ways. It may be a monetary gift, giving of their time, or giving of their talents. The Rush Memorial Hospital Foundation offers all of these opportunities to the public. Tax deductible gifts can be given in honor of someone or in memory of someone. Recently, families have shared stories about the exceptional care they or a family member have been given at Rush Memorial Hospital and would like to have a way to say "thanks" for the care given. Financial gifts of any size can be donated. Beginning with a $500 gift a leaf can be engraved and placed on the RMH Tree of Life located at the ER entrance.
Others have a philosophy of giving back to their community. Rush Memorial Hospital has a dedicated volunteer team that assists patients and guests as they enter the hospital. Other volunteers work specifically in departments with specialized tasks. A new opportunity will be launched very soon and that is the new RMH Shuttle. A team of volunteer drivers will be needed to man the bus during business hours to assist patients and guests from the parking lots to the various building on the RMH campus. A valid Indiana driver's license is required along with the capability of assisting patients with mobility issues on and off the shuttle. Training will be available to these drivers.
Have a special talent? We can pair you with projects and departments in need of these talents. An example would include those "at home" volunteers that crochet, knit, or sew lap quilts for our cancer patients. Another example would be those people with multi-language skills that could be used to interpret when necessary.
If you are thinking about "giving back" to help your community, to say thank you for services given to you, or to create or continue a legacy of giving within your family contact the Rush Memorial Hospital Foundation at 765-932-7568 or stop by the RMHF Office at 1230 North Main Street. Your ideas and options will be discussed so just the right fit for you can be made. Giving back benefits the giver and the recipient. It's a win-win for everyone involved. Consider "giving back" and make a difference in lives every day at the Rush Memorial Hospital Foundation.