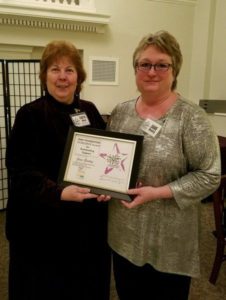 This article first appeared in the Rushville Republican on Tuesday, January 24, 2017.
On a night that was threatening sleet and ice the Rush Memorial Hospital Foundation hosted its first major donor appreciation dinner to say thank you for their commitment and support of Rush Memorial Hospital. Held at the 201 Building top donors of the RMH Foundation were entertained with guitar music provided by RCHS alum Nathan Foley during the social hour. A "Rush County Faire" was provided by BMoore Foods where everyone enjoyed stuffed pork loin, all the trimmings, and sugar cream pie. RMHF Volunteers Katie Meyer, Taylor Mock, and David Wood served for the evening.
The program included an interesting and informative Rush Memorial Hospital update by President/CEO Brad Smith and an RMH Foundation update from Executive Director Faith Mock. One of the highlights of the evening was the presentation of the RMH Foundation Excellence Award. This award, which began 4 years ago, is presented to an RMH employee for outstanding support of the RMH Foundation. This year's recipient was Jane Gentry from the RMH Health Information department. Jane was instrumental in coordinating a very successful Brian's Cause silent auction and inspired her department to participate in many fundraising projects within the hospital.
The event was capped off by the launching of the new "Friends of the Foundation" campaign. This campaign is seeking donors at a $10,000 or more level to support the RMH Foundation. Donors can make a one-time gift or pledge over a 5 year period. The evening ended with a drawing for a beautiful bouquet created by Vogel's Florists. Shannon Dawson was the winner of the bouquet.
"This was a very nice event," stated Dr. Donald Snyder. "My wife and I truly appreciate this community and the hospital is an integral part. Thank you to the Foundation for all of the support that you provide." Brian Bess, RMH Foundation Board member, shared "What a great evening. It was wonderful getting to speak with and to share with our very special donors who have so graciously given their resources to the RMH Foundation and Rush Memorial Hospital".
For more information about the "Friends of the Foundation" campaign or the Rush Memorial Hospital Foundation call 765-932-7568 or stop by the RMH Foundation office on the corner of 13th and Main streets.