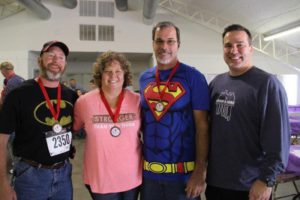 This article first appeared in the Rushville Republican on November 7, 2017.
You set a goal then work and hope that you can reach it. The Rush Memorial Hospital Foundation set the goal for this year's Brian's Cause – Together We Can fundraiser at $12,000 and with the help of the business community and many individuals were able to exceed that goal. Over $17,000 was raised to assists RMH cancer patients in need during their treatment.
Faith Mock, RMH Foundation Director, stated, "The outpouring of the community was just amazing. Individuals, businesses, and families came together to make this the best Brian's Cause event ever. Thank you for your support. You will make a difference in our local cancer patients' lives."
Major corporate sponsors included: Intat Precision, Inc., Franciscan Health Cancer Center, Fraley Implement, Rushville Pharmacy, Douglass Body Shop, Davis Towing & Recovery., Premier Hospice and Home Health. A full list of all sponsors can be found on the Rush Memorial Hospital Foundation facebook page. The silent auction continued to be a big hit. Many thanks goes to over 70 donors that gave items for the auction. This year an art party was added and provided by Artzy Party.
Many volunteers including employees of Rush Memorial Hospital, RCHS Student Council, Delaney Dawson and Jensen Smith, Pastor Roy Ice, speakers Cathy Pratt and Lilly Hill, musicians Anita and Bill Wilson, CVS, RCHS Band, the RMHF Seed Circle, and RMH Cultivation Club worked together to make this a very successful event.
Very special thanks goes to Michele Gettinger and Mary Ann Coon who coordinated the Together We Can Celebrate Superheroes 5K run/walk.. Brad Smith, CEO/President of Rush Memorial Hospital proclaimed "It was the best Brian's Cause we have had to date. People are still talking about it. Many thanks goes to everyone that made it a great event!" It was a memorable experience for those that participated and celebrated the 24 cancer survivors that were honored at the event. Mark your calendars for the 2018 Brian's Cause –Together We Can fundraiser on Saturday, October 13.
The RMH Foundation 's Brian's Cause committee members are: Michele Gettinger, Chair, Brian Conner, Mary Ann Coon, John Byrne, Vicky Frazier, Erin Pike, Michelle Spivey, Christopher Fogle, Jane Gentry, and Deb Hummel.
RMH cancer patients in need of financial assistance during their cancer treatment can find the application at www.rushmemorialhospitalfoundation.com/Funds. Please call the RMH Foundation Office at 765-932-7568 with questions or for additional information. Tax deductible donations to the Brian's Cause Cancer Treatment Relief Fund are accepted at any time. Checks should be made payable to the Rush Memorial Hospital Foundation (please write Brian's Cause in the memo section) and send to: RMH Foundation, 1300 North Main Street, P.O. Box 215, Rushville, Indiana 46173. Feel free to drop any donation off at the RMH Foundation Office located at the corner of 13th and Main Streets, Rushville.