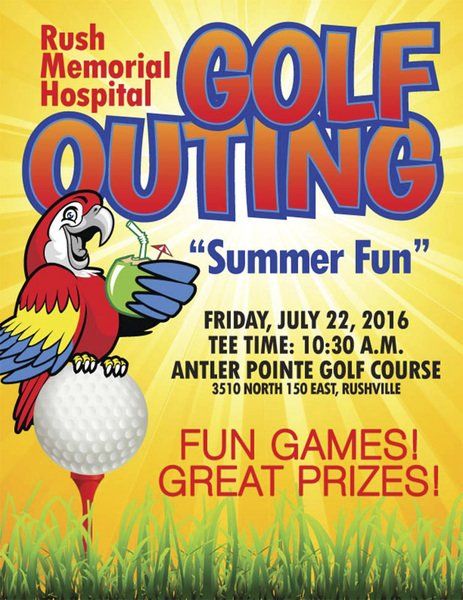 This article originally appeared in the Rushville Republican on April 12, 2016.
Ladies and gentlemen, get your golf clubs ready.
The annual Rush Memorial Hospital Golf Outing date for 2016 has been set. RMH will host teams from the area at Antler Pointe Golf Course on July 22. The course is located at 3510 North 150 East, Rushville, and the event will benefit the Rush Memorial Hospital Foundation's Scholarship Fund.
Last year $8,100 were given in scholarships to graduating high school seniors pursuing degrees in the health or medical fields, along with scholarships available to RMH employees furthering their education.
According to Faith Mock, RMH Foundation Executive Director, "Julie Dragoo, RMH Marketing Director and Golf Outing Chair, and her committee have worked to make our annual golf outing fundraiser great fun and successful. This year's theme is 'Summer Fun' and will be without a doubt the most exciting 18 holes of golf in the area. With the help of our sponsors and individual golfers we have been able to sustain our scholarship fund."
Tee time is 10:30 a.m. and golfers will enjoy lunch and a hot dog cart along the course. Very special prizes will highlight the day. First, second, and third place teams will be honored along with individuals for longest putt and other designations.
Sponsorship opportunities and player fees can be found at www.rushmemorial.com/foundation/golfouting. To inquire and get more information, contact Julie Dragoo, Golf Outing Chair, at 765-932-7578.